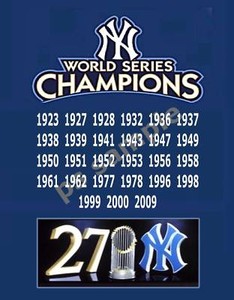 Overnight, the "Baby Bombers", morphed back into the "Evil Empire", and the bandwagon is getting crowded fast.  However, before Yankee fans (of which I am one) start celebrating number 28, (as in World Series wins) below is ten reasons why that flag may not be raised come November.
10 – Surprise team.  Which team might this be?  I don't know, that's why they call it a surprise.  Not too many people were picking The Philadelphia Eagles to win the Superbowl this year.  Since the inception of the wild card in 1994, six wild cards have won the world series.  That, and worst to first is like a thing now.
9– Aaron Judge does not duplicate rookie success.  Judge can have a great year and still fall short of 52 homers and 114 RBI.  You can't just pencil in production like that.  And while he is expected to be 100% ready by spring training, he did have off-season shoulder surgery.  I guess we will find out if that second half slide he has last season was due to the shoulder or pitchers adjusting to him.
8– Giancarlo Stanton just had the best year of his career.   It is also the first time in his 8 seasons he has played more than 150 games.  What are the odds he plays all 162 again?  And while he did not come to the Yankees via free agency, it is his first season in NY, with a huge contract and huge expectations, oftentimes, it takes half a season to a season to adjust to life and pressure in the pinstripes.
7– Thin starting pitching.  There is a reason why GM Brian Cashman is scouring the pitching market.  For an ace/ #1, Luis Severino can be inconsistent, Mashahiro Tanaka under-performed last season, and his elbow is still a candidate for needing Tommy John surgery.  CC Sabathia has knee issues and father time banging on his door, and Sonny Grey is good but doesn't scare anybody.  Like former hall of fame Yankee manager Joe Torre use to say… We will only be as good as our pitching.
6– Injuries.  You never know who or when the bug might hit you.  In addition to red flags of Tanaka and Sabathia, Aroldis Chapman spent time hurt last season.  In the four seasons prior to last, Stanton missed, 43, 88, 17, and 46 games.
5– Reacting to the pressure.  The Yankees are no longer be the cute underdog Baby Bombers.  They are among the favorites.  In other words they're back to being the hunted.  We'll see how the players and the rookie manager handle the pressure and adversity that comes with that.
4– Dodgers are still the favorite.  The Houston Astros and Cleveland Indians and Chicago Cubs will still be around.
3– Bullpen may be overrated.  Aroldis Chapman was inconsistent and showing signs of decline.  Dellin Betances was a disappointment last season.  Yes the pen is still a strength, but it may be just a tad overrated and overused due to a starting rotation that doesn't give you a ton of innings (in part due to analytic era) and possible injuries.  Will they be fresh by the postseason?
2– Rookie Manager/ rookie bench coach – it's all well and good to have a winning smile, and get all along with everyone at ESPN, but neither that nor the home run Aaron Boone hit in 2003 will prepare him for every situation he will face.  Looks like he makes a great "good cop", but sometimes being a great manager means being "a bad cop", and analytics won't always have the answer.   Not sure if it's all-inclusive, but according to ESPN, rookie managers don't win often.
1– Teams with better starting pitching.  This goes with number 7.  The Bombers may set all kinds of records during the regular season, in part due to feasting on pitching on bad teams.  The playoffs tend to bring out the teams with very good to great pitching.  Right now, the teams list in number 4 have better starters.
With their hitting and bullpen, the Yankees are clearly built to make a strong regular season run.  The post season?  Not so sure.  Of course other teams can be hit by injuries, and there is still plenty of time for the Yankees to improve their starting pitching via free agency, trade, or one of their ballyhooed prospects coming into play.
It will not be a big surprise if the Yankees do win number 28, but these are some reasons not to plan the parade down the Canyon of Heroes just yet.